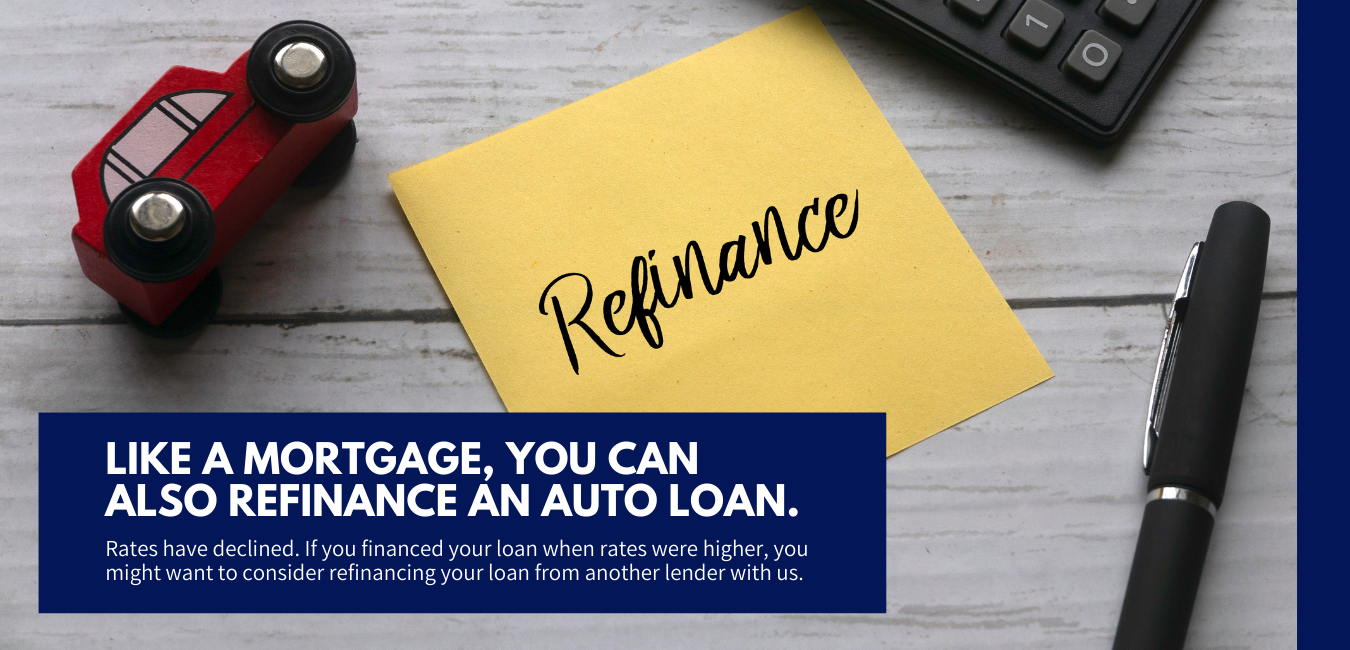 Same Wheels. Better Deals.
TopMark would like to save you money on your existing car, truck, motorcycle, RV or other secured loan and lower your rate by 1.0%* APR! Don't miss this offer!
If your vehicle loan is not with TopMark, You're paying too much!
As a car owner, you may have loved or hated the car-buying process, but either way, you are now the proud owner of a brand-new car payment! As with most things in life, change is inevitable, that means you may want to consider refinancing to get more miles out of your dollars.
Not sure what refinancing means? Refinancing is taking out a new car loan to pay off an existing loan, typically to receive a lower interest rate and/or decrease your monthly payment. In other words, you are shopping around for an interest rate that is more appealing and one that best fits your current financial situation and needs. Here are a few reasons to consider it.
Reduce Your Interest Rate
Even a small decrease can make a difference over the life of the loan, so it is smart to look at what your current rate is and how it compares to our current loan rates.

Lower Your Monthly Payment
If you are more concerned about reducing monthly payments and less concerned about the length of your car loan, refinancing can help you do that. If you are looking to decrease your payment, one way you can do so is by choosing a longer term when refinancing.
Increase Your Monthly Payment
Wait, what? Yes, you read that right. If your financial situation has changed significantly, and you have more monthly funds available, consider refinancing your auto loan for a shorter term, and a lower rate.
Add Policies to Your Loan
Depending on your car buying experience, you may not have realized the additional policies available that you can add to your car loan. An example of this would be GAP insurance, which would cover the amount between what is owed and your vehicle's actual cash value in the unfortunate event that your car is totaled or stolen.
You Would Rather Be an Owner
Be an owner of more than just your car! When you purchased from a dealer, you probably opted to get your loan through the dealership, or they shopped around for you and now have your auto loan through a bank. Credit unions tend to offer lower rates since they are owned by their members and are not for profit.
Be a smart consumer! Shop around for current rates and see how they compare to the one you have now. As always, TopMark FCU is here to help.
*TopMark FCU will beat the rate from your current lender up to 1.0% APR, with a floor rate of 3.95% APR.
The rate reduction offer is available for Refinanced Loans only. Existing TopMark collateralized loans are ineligible for internal refinance and terms are subject to change without notice. All loans are subject to credit approval.
Minimum Financed $10,000 for this promotion
---
Auto Equity Loans with Cash Out
It's normal to have questions regarding auto refinances, especially when it comes to refinancing with cash out. The good news is that auto refinancing with cash out is simpler than you might think. Refinancing with cash out is simply using the equity you have in your vehicle to pay off other debts or get cash for other purposes.
Here's how it works:
Let's say you have a car or truck. It has a NADA retail value of $17,000. You owe $13,000 on it. There is equity of $4,000. Simple enough, right? When you refinance the vehicle, the proceeds are used to pay off the $13,000 loan and the difference can be cash out in your pocket.
Now you have established that there is equity in your car. Depending on whether you meet a few conditions for cash out refinancing such as condition of car, age of vehicle, mileage, and so on, you can move forward and apply for auto refinancing.
---
What Are the Benefits from Financing with TopMark?
Up to 125% LOCAL Financing
Financing Locally Builds YOUR Community
No Pre-payment Penalties.
Always ask about this feature before you choose another Lender!
Optional Low-Cost Payment Protection Plans
We offer Credit Life, Credit Disability, GAP Protection and Mechanical Breakdown Protection
Winter & Summer Skip-A-Pay Opportunities
We offer Skip A Payment twice a year.
Convenient Payment Options
Terms up to 84-months. Pay monthly, bi-weekly, by direct deposit, Bill Pay or at one of our offices.
Manage your Auto Loan with our TopMark Online Banking
Making payments and reviewing your statement is simple!
You'll always speak with a TopMark employee over the phone or in-person.
Many lenders do not have local offices.
TopMark Federal Credit Union is an Equal Opportunity Lender.