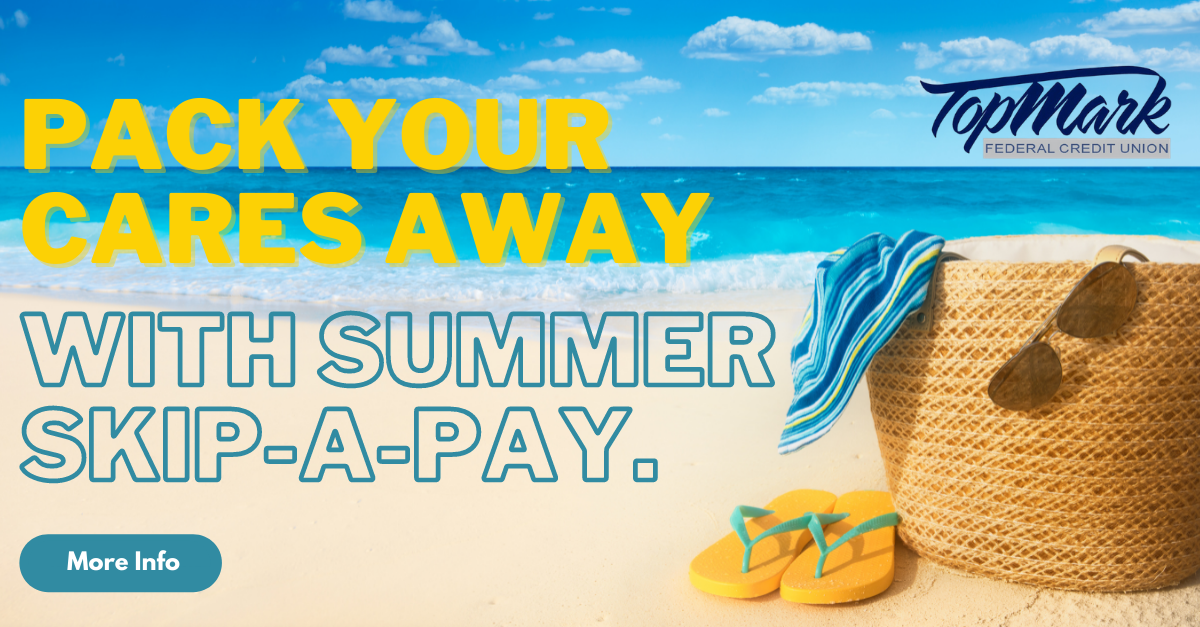 Skip your July Payment!
What is Skip-a-Pay? The Skip-A-Pay Program gives you the option to defer a monthly payment on an eligible loan to the end of the loan term. We advance your payment due date and your maturity date (for example on a 48-month loan, if one payment is skipped, you make 48 payments over 49 months).
The borrower (member) and all co-borrowers must sign this request form.
*For best results, please verify eligibility with a TopMark Federal Credit Union representative prior to submitting your Skip-A-Payment form. This offer does not apply to real estate secured loans, credit cards, payday, mobile home or lines of credit. All credit union loans must be current at the time of the request.
Are you eligible?
You must be in good standing

(not delinquent or have a negative balance)

on any accounts, including those you may be a co-signer on.

Loan must be current or in grace period. This includes any you may be noted as a co-signer on, as well.

Loan must be open for a minimum of 6 months prior to the skipped payment.

If you skipped your loan payment due to COVID-19 (March, April or May 2020), you may not be eligible to skip your July payment. Contact a branch for information.
Ready to Skip? To request to skip your loan payment, you may:

Participating Information
By signing, I authorize TopMark FCU to advance my loan payment due date by one month and understand this will extend the maturity date of my loans(s). A fee of $35 will be assessed per loan. Interest and any charges for disability and/or life insurance will continue to accrue for any skipped month.
Offer limited to two (2) skips per calendar year. Secured loans are limited to six (6) skips over the life of the loan. If the loan includes Guaranteed Asset Protection (GAP), skipping a loan payment will reduce any GAP claim that is filed during the life of the loan. Refer to your GAP contract for applicable limits. This offer only applies to any loan that are refinanced or originated at least six (6) months prior to the skip a pay request date.