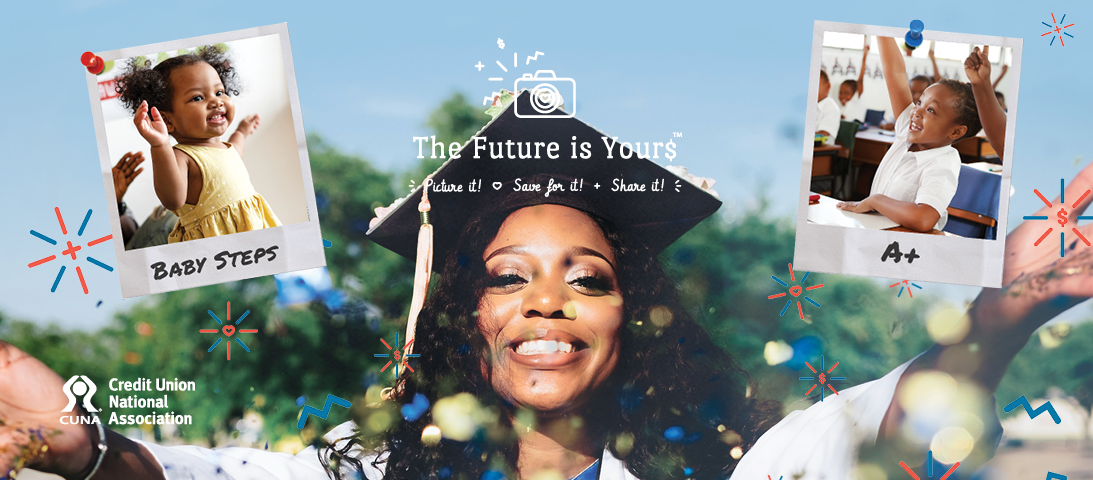 April is Credit Union Youth Month
"The Future is Yours...Picture it! Save for it! Share it!"

In April, we celebrate Youth Month and National Financial Literacy Month. We want to inspire young people to save their money at TopMark so they can enjoy the future they picture. We encourage you to bring your children into our branches to learn more about the benefits of saving, plus:
Receive a FREE gift, while supplies last.

Open a new account for anyone under age 17 and receive the first $5 deposited directly from us.

Enter to win a $25 Visa® Gift Card from our weekly drawing. Receive one entry each week when you make a deposit into your savings account.

Enter the grand prize drawing for a Columbus Zoo 2019 Family Membership.
1 Offer good for new or existing youth accounts age 17 and under. New account or deposit must be made by April 30, 2019. Only one $ 5.00 deposit per member. Only one entry per member, per week for $25 Visa® Gift Card. Only one entry per member for Grand Prize Drawing. Account must be opened by April 30, 2019.
The theme for this year's Youth Month is "The future is yours… Picture it! Save for it! Share it!". Together, we're encouraging youngsters to express themselves through photography, sharing their visions for their own financial futures so we can help them get there.
Start small. Help your children save for a toy they want. Then sign them up for a youth savings account where they save for far-off goals.
As your credit union, we want to help you teach your children to learn good financial habits. Together we can help them fulfill their dreams no matter big or small.
Get involved by using the Twitter hashtag @CUYouthMonth to let everyone know how your credit union is making a difference in young members' lives.
NATIONAL YOUTH SAVINGS CHALLENGE RULES:
The National Youth Saving Challenge is open to all youth under 18 who visit a participating credit union during April. While youth are encouraged to make a deposit at the credit union, no deposit is required to enter.

Parents/guardians giving permission for their youth to enter can submit on a 3" x 5" piece of paper the following information to the credit union:
Limit one entry per person.
The Credit Union National Association (CUNA) will be participating by having a saving challenge. They will randomly select and give a $1,000 grand prize to a participating credit union. That credit union will then randomly select a winner from its entrants. Your credit union will notify you if you are a winner