Credit Unions Are Safe
Your Money Is Safe!
TopMark Federal Credit Union has federal share insurance, administered byan agency of the Federal Government agency, the National Credit Union Administration (NCUA). The NCUA is a government agency, similar to the FDIC. The National Credit Union Share Insurance Fund (NCUSIF), administered through the NCUA, insures all deposits accounts at TopMark FCU up to $250,000 per depositor. TopMark FCU Money Market accounts are also share accounts and are insured.
Individual Retirement Accounts (IRAs) and Keogh accounts are insured separately. So, if you have a TFCU Savings account and an IRA, the Savings account is insured up to $250,000 and the IRA separately up to $250,000. But it's important to note that share insurance doesn't cover investment products such as mutual funds, stocks and annuities.

Share insurance also separately insures individual and joint accounts. For example, if you have an individual account containing $250,000, and a joint account with your spouse containing $250,000. Each account is insured separately for a total coverage of $500,000. For revocable living trusts or payable on death (P.O.D.) accounts you can easily have your funds federally insured for more than the $250,000, depending on the number of qualifying beneficiaries.
We are required, by the NCUSIF, to abide by high standards of safety and soundness. Because of that, NCUSIF is a strong, well-capitalized fund. Not one penny of insured savings has ever been lost by a member of a federally insured credit union.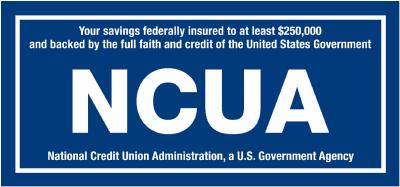 For more information on NCUSIF insurance, please visit the NCUA website or calculate the amount of your insured funds by using NCUA's Share Insurance Estimator.