Exclusive For Secure Checking Account Holders!
Introducing an Identity Theft Protection Service for TopMark FCU & Eligible Family Members!
MasterCard® ATM/Debit Card
FREE MoneyDesktop (money management, budgeting, expense tracking & alerts)
Direct Deposit and no per check fees
NEW Features
OOPS* Refund - Mistakes happen! We'll cover overdraft fees up to 3 times a year ($30.00 limit per mistake). Must use Debit Card 10 times each month in order to qualify. Must be point of sale transactions (No PIN transactions).
Cellular Telephone Protection
IDProtect® - Identity Theft Protection Service1
Cellular Telephone Protection - Cell phones are part of our daily lives. Replacing them if they are stolen or damaged can be costly. As an eligible account holder you receive up to $300 of Cellular Telephone Coverage2 to reimburse the cost of replacing or repairing your device. This valuable protection covers you whether you are at home or abroad. Cellular telephone bill has to be paid using eligible account.
Personal protection and peace of mind with IDProtect®
Prevent
Get advice on ways to protect yourself from identity theft, read educational tips and access valuable online resources related to identity fraud and credit.
Detect
Credit File Monitoring – daily credit file monitoring and automated alerts of key changes to your Experian, TransUnion and Equifax credit reports (registration/activation required)

3-in-1 Credit Report - request new 3-in-1 report every 90 days or upon receipt of credit alert (registration/activation required)

Credit Score - receive new single bureau credit score with every new credit report (registration/activation required)

Total Identity Monitoring – continuous monitoring of over 1,000 databases (registration/activation required)
Correct
Debit and Credit Card Registration – register your credit, debit and ATM cards and have peace of mind knowing you can call one toll-free number to cancel and request replacement cards - and your liability is limited - should your cards become lost or stolen. (registration/activation required)

Fully Managed Identity Theft Resolution Service – access to a dedicated consumer fraud specialist, assigned specifically to your case, who will work with you until your credit and identity are completely restored.

Identity Fraud Expense Reimbursement Coverage3 – for expenses to help clear your name and help repair damaged credit, including attorney fees, long distance calls, certified mail as well as coverage for lost wages as a result of taking time off from work.
Receive all of the benefits of our Secure Checking for a $2.95 Monthly Service Fee.
1 IDProtect service is a personal identity theft protection service available to account owner(s) and their family. Family includes: Spouse, persons qualifying as domestic partner, and children under 25 years of age and parent(s) who are residents of the same household. The service is available to non-publicly traded businesses and their business owner(s) listed on the account and their eligible family members (service not available to employees or authorized signers who are not owners). For revocable grantor trusts, the service is available only when a grantor is serving as a trustee and covers the grantor trustee(s) and their eligible family members. For all other fiduciary accounts, the service covers the beneficiary, who must be the primary member, and the beneficiary's eligible family members (Fiduciary is not covered). Service is not available to a "signer" on the account who is not an account owner. Service is not available to clubs, organizations and/or churches and their members, schools and their employees/students.
2 Cellular telephone bill must be paid using eligible account.
3 Identity Theft Insurance underwritten by insurance company subsidiaries or affiliates of American International Group, Inc. The description herein is a summary and intended for informational purposes only and does not include all terms, conditions and exclusions of the policies described. Please refer to the actual policies for terms, conditions, and exclusions of coverage. Coverage may not be available in all jurisdictions.
Insurance product is not a deposit; not NCUA insured; not an obligation of credit union; and not guaranteed by credit union or any affiliated entity.
---
Sign up with MasterCard SecureCode — an online security service to guard you against unauthorized use of your MasterCard card while shopping online at participating merchants. Click here for FAQ's.
---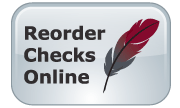 Free Checks
Receive your first 50 checks FREE when you purchase your initial check order.
SPECIAL OFFER!
Open a checking account with us and bring in your unused checks from your current financial institution and we will give you .05 per check. Our way of saying thank you for your business!
---

Earning Points is Easy!
For every dollar you charge at a participating retailer or in the CURewards Mall, you earn a point towards a valuable award. The more points you earn, the greater your reward.

Visit CURewards.com to see a full selection of merchandise1 and travel2 opportunities.
---
Courtesy Pay - We've got your back.
Courtesy Pay saves you from the embarrassment of returned checks, merchant returned check charges and collection agency fees. It even helps protect your credit rating.
It happens to everyone. You make an honest mistake in your checkbook - forget to record a debit card purchase or a check written - and all of a sudden your balance is a little shy of what you need to cover your outstanding checks. That's why TopMark offers Courtesy Pay, an added member service that protects your checking account when an accidental overdraft occurs.
If you'd like to know more, we're happy to review Courtesy Pay along with a variety of other options designed to add convenience and ease to your account. Just give us a call. *Courtesy pay is the discretion of management.
---
To Report a Lost or Stolen MasterCard Check Card:
Monday - Friday 9:00am - 5:00 419-223-5886
After business hours 1-888-918-7848
Outside the United States 1-727-299-2449
Beware of Telephone Scams
A credit union employee will not call and ask you to provide sensitive account information. Furthermore, we do not solicit any card or account information by using automated message systems or text messages. However, we do have a fraud alert system for our credit cards.